www.mycapstonelibrary.com
Pebble Go Next Research and Learning Tool
www.pebblegonext.com
Library Photo Gallery
18 days ago
Kindness Awards
Rodney and Anthony, students in Mr. Garrison's kindergarten class, were awarded Kindness Awards in the Library. Rodney and Anthony work together cooperatively, are kind to each other and to their classmates, and exemplify the attributes of true friendship. They shared with me that they are "best buddies." Thank you to both of these sweet boys for being an amazing role model for others! I love your weekly Library visits!!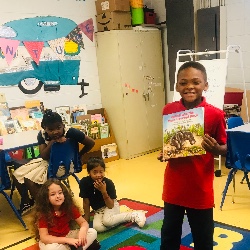 Book "Brags" - A Place to Share Favorite Books
18 days ago
Sidewinders
Cole Brown loves the book titled Sidewinders. Cole thinks snakes "are cool!" He loves the Library because there are so many books about animals and other interesting topics to read. Thanks for being such a wonderful student, Cole, and keep up the great reading!!
Tales of Sasha
Megan is a 3rd grader, and she loves the Tales of Sasha series. This is a new series in the Library this year. The books are about horses, and Megan shares that she loves horses. The fact that the books contain adventures makes them even more interesting to Megan because she loves adventures, too! Megan loves horses so much that she says, "During the holiday, I am going to ask my parents if they will take me to a farm or somewhere to ride a horse!" Have a wonderful time, and be safe, Megan! Thanks for always being awesome!!
A Christmas Carol
Jasmine's favorite book is A Christmas Carol by Charles Dickens. She likes when Scrooge changes his feelings about Christmas and begins to help the people who need it. Jasmine states, "That's what Christmas is all about!" Have a merry holiday, Jasmine!
What the Moon Said
Sophia Estrada, a 4th grader in Mrs. Fletcher's room, likes the book What the Moon Said by Gayle Rosengren. The main character, Ester, has a mom who is really superstitious. Sophia finds that interesting and finds that it contributes a great deal to the plot of the story. Esther and her family move to a farm until she starts having problems with her appendix, which meant that she has to move back to Chicago. Sophia highly recommends this book! Thank you, Sophia, for your input and for being such a wonderful Library student!
Wolves
Kinsley Hurst shares that her favorite book is titled Wolves by Sandra Markle. She loves both dogs and wolves. She has a husky named Sally, who was a rescue. Kinsley is in the 3rd grade in Ms. Hardman's class. Kinsley says, "A wolf is my spirit animal." Wolves love to investigate and explore, and so does Kinsley. She even wears a wolf necklace. Keep exploring books, Kinsley! : )
The Bronze Key
Harleigh Benschoter is a 5th grader, and her favorite book is The Bronze Key in the Magisterium series. The authors of the series are Holly Black and Cassandra Clare. They are fantasy books, which is Harleigh's favorite genre. Harleigh loves fantasy because it engages her imagination.
Tuck Everlasting
One of Addyson Keeling's favorite books is Tuck Everlasting, which they read in gifted class last year. Addyson was fascinated with the concept of immortality and the suspense of whether Winnie was going to drink the water. She loved the plot of the book. Addyson is in the 5th grade.
Judy Moody & Friends
Zoey Coon, a 2nd grader in Ms. Sumlar's class, loves the Judy Moody and Friends series by Megan McDonald. She has read several in the series and is now looking forward to reading Jessica Finch in Pig Trouble. She just loves the plot in the stories and says that they are so much fun to read. P.S. Happy birthday, Zoey!!! You are a joy to have as a Library student!! :)
Heidi Heckelbeck Gets Glasses
Amy Ruiz's favorite book is Heidi Heckelbeck Gets Glasses by Wanda Coven. Amy shares that it was funny at times, and she also felt empathy for the main character. Amy wears glasses herself, so she could relate to the emotions of the main character. Amy's favorite part is when she became happy with her glasses because Amy is happy with hers!

Nile Crocodiles
E'Marion Jeffries, a 3rd grader at BES, says that he loves our new animal books in the Library! One of his favorites is titled Nile Crocodiles and Egyptian Plovers because he learned all kinds of interesting and informative facts that he did not previously know about crocodiles. For example, he did not know that crocodiles can eat fish that are bigger than its mouth in one single bite! These animal books are becoming very popular in our Library. E'Marion shares that he loves them because he can read them quickly. He then takes an AR test on them to earn a fast 1/2 point. :)
Shadow Squadron series
Aundreviyn McGuire's favorite series in our BES Library is the Shadow Squadron series. He loves the adventure in these books, and it inspires him to keep reading. He said that sometimes it is really hard to put the book down! He also thinks the suits and goggles the characters wear on the book cover are cool. Aundreviyn is in the 3rd grade.
T-Rex Would NOT Make A Good Knight
Elizabeth Plaisance, a 4th grader, shares that this title is one of her favorites. It is one of our new electronic books on Capstone Library. Elizabeth loves reading the e-books on our new ChromeBooks in the Library and regularly makes 100s on her AR tests! : ) Way to go, Elizabeth!!! She enjoyed this book because it is a light-hearted book and because it made her smile. The author of this book is Thomas Kingsley Troupe.
Junie B. Jones
Dulce Gomez, a 4th grader, loves the Junie B. Jones series by Barbara Park. Dulce especially liked Junie B. Jones Has A Peep in Her Pocket. In this book, the main character, Junie B., tours a farm and is so excited about the little fluffy chicken there on the farm. She even wants to take it home, but the farmer tells her that she cannot and that the little chicken has to stay on the farm to grow up there. Dulce shares that this book made her laugh out loud and smile a lot!

Car Books
Pedro Corral in 5th grades shares,"My favorite book is titled Ferrari 458 Italia. I love how our Library has all these cool car books. I enjoy learning about the car's speed and about what makes the cars go fast. I also like to read about how people race the cars. When I grow up, have a good job, and get rich, I might buy a Lamborghini or a Bugatti."
That's awesome, Pedro! Just remember your 5th grade Librarian. : )
Fancy Nancy
Aiyana Jarman, an adorable 1st grader in Ms. Pegues' class, shares that she LOVES Fancy Nancy books! She loves how the main character, Fancy Nancy, is such a natural-born performer. Aiyana also likes how Fancy Nancy dresses and just the fact that she is "fancy." The author is Jane O'Connor.
Diary of a Wimpy Kid
Victor Alcala, a 5th grade student at BES, shares that he enjoys reading the Diary of a Wimpy Kid series. He loves how the main character acts and how he solves problems in his life. Many of the problems are problems that are encountered in real life. His two favorite books in the series are Cabin Fever and The Getaway. The author of this series is Jeff Kinney.
The Babysitters' Club
Madison Lester, a 5th grader, loves the book titled Mary Anne Saves the Day by Ann Martin because the main character, Mary Anne, is her favorite character in the Babysitters' Club series. The character, Mary Anne, is shy and sweet, much like Madison. These books also hold an element of surprise for Madison, and that is why she finds them entertaining. She likes that the characters have a lot of friends. Madison hopes to be a babysitter herself some day.
Dork Diaries
Haley Shoffner, a 3rd grader, shares that she likes the Dork Diaries series because she finds them entertaining. She enjoys the humor in the books and thinks that the main characters, Nikki, Cloe, and Zoey are hilarious. The author is Rachel Renee Russell.
Pictures of Hollis Woods
Mrs. Teel, our wonderful Assistant Principal at BES, shares the following:
"I recently read Pictures of Hollis Woods recommended by our librarian, Mrs. Bullard. I was so captivated by the main character, Hollis Woods. She is a strong, compassionate, and artistic 12-year-old girl who finds herself in a new foster home because Hollis never stays anywhere long. Hollis and her new guardian, Josie, form a quick bond. However, Hollis finds herself longing for her previous foster family. Read this book, and you quickly fall in love with Hollis and her feelings of fear and regret and her quest to find a forever home."
The author of the book is Patricia Reilly Giff.
Number the Stars
One of Mrs. Bullard's favorite books is Number the Stars by Lois Lowry. The setting is in Copenhagen in 1943, and friendship is a prevalent theme in the book. It is a story about the Danish Resistance and their plan to smuggle the entire Jewish population of Denmark--nearly 7,000 people--across the sea to Sweden. The story is told with pride and hope through one young girl's eyes.

The Importance of a Good Attitude
3 months ago


In the Library, we practice kindness, respect, and having a good attitude. This picture depicts our philosophy perfectly: "It's all about which way you look." You can choose to look on the bright side, or you can choose to only see the negative aspects of things that happen. As Abraham Lincoln said, "We are about as happy as we make up our minds to be." Choose optimism and joy today and every day!
STAR Library Students
10 days ago
Aiyana Jarman
Aiyana Jarman is so deserving of her honor of STAR Library Student of the Week. She is always polite in the Library, and she absolutely loves to read! When we were reading the book titled Madeline, Aiyana shared that she wants to visit Paris and has wanted to go there "since she was a baby." Aiyana also enjoys listening to stories, and she loves learning new vocabulary words in the Library. Congratulations, Aiyana, and keep being awesome!!
Jayla Warren
Jayla Warren is excited to be selected as Student of the Week. Jayla is such an excellent role model for other students in the Library. Her behavior is always on point, and her smile is beautiful. Thank you, Jayla, for being such a wonderfully sweet and kind student! Keep being awesome!!
Braylen Simmons
Braylen Simmons was selected as the STAR Library Student for the Week for January 6-10, 2020. Brayden's favorite books to read are football and action books. Braylen loves all sports and plays football, soccer, basketball, and baseball. Last year, he was selected as Defensive Player of the Year for football. Thank you for being such an amazing student and person, Braylen!
Angela Brown
Angela Brown is the STAR Library Student for the week of January 13-17, 2020. Her favorite types of books to read are Roman and Greek mythology. She reads a great deal in the Library and at home. She also enjoys math. Her favorite thing about coming to the Library is "getting to read all these amazing books!" Keep reading, Angela!
Chloe King
Chloe King is the STAR Library Student for the week. Her favorite book series is the Dork Diaries series because of the humor. She loves coming to the Library because it is quiet, she can concentrate, and there are so many books from which to choose. She also loves to dance, and she takes weekly dance lessons. She also enjoys playing outside, riding her bike, and playing basketball. Thanks for being such a sweet and amazing student, Chloe! Keep being yourself, keep striving for excellence, and keep reading!
Serenity Medlin
Serenity, a sweet 2nd grader, was excited to be selected as the STAR Library Student of the Week. She shares that she loves to read and enjoys coming to the Library. Serenity always has an excellent attitude and a beautiful smile! She said that she likes learning all the information contained within books; however, she plans to relax during the holidays. Sounds like an excellent plan, Serenity! Thanks for being awesome!
Delilah Ramirez-Gonzalez
Delilah is our STAR Library student for the week of December 16. When she was asked why she loves the Library, she said "because Mrs. Bullard is nice to me, and there are a lot of great books to read!" Delilah recently reached her 50-point goal in Accelerated Reader. She shares that she enjoys reading because it is such a peaceful activity. Congratulations, Delilah! Have a wonderful Christmas break!!
Gerald Davis
Gerald Davis is in the 1st grade in Mrs. Pegues' class, and he is so excited to be chosen as STAR Library Student of the Week. Gerald shares that he loves to read because it helps you to read even better, and it helps you to learn new things! I completely agree, Gerald! Have a great holiday season!
Julie Turner
Julie Turner from Mrs. Hardman's class is the STAR Library Student of the Week. Julie has a bubbly personality and loves reading! Julie cannot wait to start reading for the "Winter Break Bingo Challenge." She plans to read at least one chapter book while we are out during Christmas, and she plans to read at least twelve or more chapter books this school year. Thanks for being awesome, Julie! Merry Christmas!
Josilyn Jefferson
The STAR Student of the Week in the Library for the week of November 11 is Josilyn Jefferson, a 3rd grader from Ms. Bradley's room. Josilyn recently left me a note apologizing for dancing into the Library, and she said that it was because she loves the Library and was so excited about it being Library Day. Josilyn, no need to apologize! I truly wish everyone would be so excited about the Library! Maybe we should ALL do a little jig about reading! :) I learn so much from my students every day, and I am grateful for students like Josilyn who make my job FUN.
It is a blessing to be here at BES. Happy Thanksgiving to Jocelyn and to her family, and hold on to that excitement about books and about reading!!! :)
Evelyn Vasquez Benitez
The STAR Library Student of the Week for November 18 is Evelyn Vasquez Benitez, a Kindergarten student in Mrs. Mynatt's class. Each time I look out at my students, Evelyn is the student who is ALWAYS listening and always paying attention. I appreciate her attentiveness and excellent behavior so much, and I absolutely LOVE her sweet attitude and her beautiful smile. Thank you for being awesome, Evelyn!